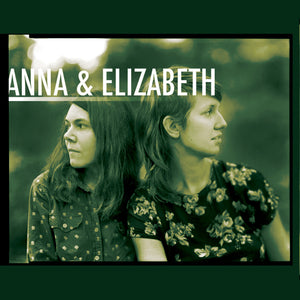 Anna & Elizabeth honor Appalachian artistry and shed new light upon tradition. Elizabeth LaPrelle, an acclaimed ballad singer from Rural Retreat, VA, and Baltimore-based multi-instrumentalist Anna Roberts-Gevalt, have made their most compelling work to date in their new self-titled album on Free Dirt Records. A collection of 16 traditional songs thoughtfully gathered and interpreted, the album guides listeners through the duo's intense personal connection with each song, for an experience that is as warm and intimate as their one-of-a-kind live performances. Soaring through rousing old-time dance numbers, haunting Appalachian ballads and lilting lullabies, Anna & Elizabeth showcases the incredible vocal capabilities of both LaPrelle and Roberts-Gevalt, and shimmers with breathtaking moments of harmony, all laid atop masterfully executed instrumentals. A record equally as invigorating as it is contemplative, Anna & Elizabeth allows for the prolific talents of these two young women to shine brighter than ever before.
"This is a phenomenal Americana album... There's really nothing like it in the music world today, even scouring the deep recesses of independent music sites. This is a well developed, perfectly produced, authentic Americana album. It's a must-own, will-love album for true fans of American roots and Appalachian music." - Ear to the Ground
LISTEN TO "LITTLE BLACK TRAIN"
Track Listing:
1 Long Time Travelin'
2 Little Black Train
3 Poor Pilgrim of Sorrow
4 Soldier and the Lady
5 Lovin' Babe
6 Orfeo
7 Father Neptune
8 Goin' Across the Mountain
9 Don't Want to Die in the Storm
10 Troubles
11 Voice from on High
12 Won't You Come and Sing for Me
13 Greenwood Sidey
14 Very Day I'm Gone (Rambling Woman)
15 Grace of God
16 Ida Red
Catalog Number: DIRT-CD-0072
UPC: 877746007224