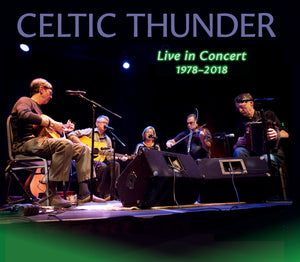 Celtic Thunder Live in Concert: 1978-2018
Celtic Thunder Live in Concert features 16 live concert recordings spanning 40 years of performance by this noted and popular group from the DC-Baltimore area (and with deep roots in NYC). The first new album by the original Celtic Thunder in a number of years, this recording has an immediacy that will make listeners feel as though they are right there in the hall as the music is playing.

Co-founded by brothers Jesse Winch and Terence Winch, Bronx-born sons of Irish immigrants, along with Linda Hickman, Steve Hickman, and Nita Conley, the original Celtic Thunder played its first gig in May of 1977 at the Harp Pub in Baltimore, and went on to become one of the most influential traditional music groups in the U.S. Celtic Thunder has released three earlier albums over the years. The band's second CD, The Light of Other Days, which features Terence Winch's now classic song "When New York Was Irish," won the prestigious INDIE award for Best Celtic Album. In addition to touring Ireland and playing innumerable concerts, ceilis, and pubs in the U.S., Celtic Thunder also performed at the White House twice during the Clinton administration. Besides the original lineup, Celtic Thunder Live in Concert also features these members of the band—virtuoso fiddle player Tony DeMarco, legendary singers Dominick Murray and Eileen Estes (Nita's daughter), step-dance master and pianist Regan Wick, and dynamic young fiddler Michael Winch (Terence's son).
Track Listing:
1. Down by the Magdalene Green
2. The Bird in the Bush/ Paddy Lynn's Delight
3. Farewell To Fuinary
4. The Cup of Tea/ The Earl's Chair/ The Cameronian
5. Goodbye, Johnny Dear
6. Hanley's Tweed/ The Swallow's Nest
7. Be Thou My Vision
The words to this song date back to the 8th Century. Originally in the Irish language, the piece
8. The Fisherman
9. Johnny, Lovely Johnny
10. My Darling Asleep/ My Brother Seamus/ The New York Jig
11. I'm Already in Love 12. Showman's Fancy/ Ships in Full Sail/ The Dawn
13. Dead Stop
14. The Derry Hornpipe/ Speed the Plow
15. When New York Was Irish
16. Siobhan O'Donnell's/ The Morning Dew/ The Commodore / Bodhran solo/ The Thunder Reel