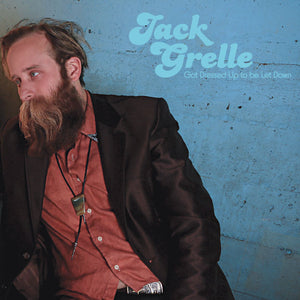 Jack Grelle- Got Dressed Up to Be Let Down
"Got Dressed Up to be Let Down," the new album from St. Louis-based country songwriter Jack Grelle (Grell-EE), paints the picture of true Americana with depth and variety. Largely sculpted by 70's honky-tonk, the album weaves through diverse influences such as cajun, tejano, rock & roll and folk to create a passionately comprehensive interpretation of a classic sound. The songs are carefully crafted with contributions from an assortment of musicians including the South City Three (Pokey LaFarge) and John Horton (The Bottle Rockets). The arrangements include pedal steel, piano, fiddle and harmonica.
Jack's willingness to travel around genre-lines is a testament to the urgency and restlessness of his artistry. This rambling spirit has brought him to over 13 countries and 3 continents with a tour schedule that averages 150 shows a year. He has shared the stage with Joe Ely, Billy Joe Shaver, Chris Stapleton, and Pokey Lafarge. LaFarge, who has personally invited Grelle to open shows on numerous occasions, referred to Jack as a "Midwestern poet" and "a timeless Renaissance man." Jack has also enjoyed the opportunity to sit in with Dale Watson and his Lonestars.
As Grelle's new album switches from waltzes to two-steps and rockers, the insight and intelligence in his lyrics remain consistent. Jack's songs range in topic from celebrating the life of his recently-deceased grandmother to romance in South America, and he shows an integrity and courage that mirror his punk rock upbringing by tackling such topics as freedom in femininity and the tragedy of police killings that plague the African-American community.