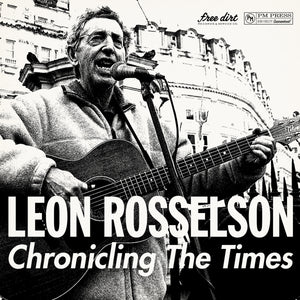 Leon Rosselson - Chronicling the Times
"Leon Rosselson is the embodiment of the original ideals of punk rock–using fearless wit and political integrity to highlight the hypocrisies of those in power." – Billy Bragg

Leon Rosselson has been at the forefront of songwriting in England for over sixty years. For Chronicling the Times, Rosselson delved into his storied political satirist's song catalog to assemble seventeen of his favorite recordings. Featuring English folk luminaries such as Martin Carthy and Billy Bragg, this collection proves that Rosselson, now well into his 80s, has created an oeuvre comparable to other social critics such as Phil Ochs. He started performing in the early days of the folk revival as a member of the Galliards with whom he made many radio and TV broadcasts. His early songs were topical-satirical, but eventually absorbed many different influences from around the world. He has recorded many albums and published two songbooks. His song "The World Turned Upside Down" was taken into the pop charts by Billy Bragg and covered by artists including Dick Gaughan and Chumbawamba. Rosselson has also published seventeen children's books, the first of which, Rosa's Singing Grandfather, was shortlisted for the Carnegie Medal in 1991.

All tracks on this album were personally chosen by Leon Rosselson as a career retrospective, and are also discussed at length in his new memoir in essay and song "Where Are the Elephants?" available from PM Press.
Track Listing:
1. Song of the Old Communist
2. Stand Firm
3. Across the Hills
4. Ballad of a Spycatcher
5. Flower Power = Bread
6. She Was Crazy, He Was Mad
7. Topside Down Party
8. Rules of the Game
9. Postcards from Cuba
10. Bringing the News from Nowhere
11. General Lockjaw Briefs The Troops (As Recorded By A Sceptical Soldier)
12. Where Are the Barricades?
13. Talking Democracy Blues
14. Wo Sind Die Elefanten?
15. The World Turned Upside Down (Part 2)
16. The Ghost of Georges Brassens
17. Stand Up for Judas
Catalog Number: DIRT-CD-0108, DIRT-LP-0108
UPC: CD (877746010422), LP (877746010811)