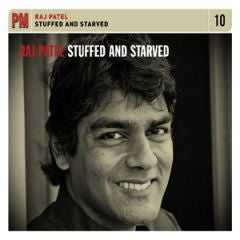 Raj Patel - Stuffed and Starved
On this audio CD lecture, Patel talks about his comprehensive investigation into the global food network while writing his best-selling book of the same name. It took him from the colossal supermarkets of California to India's wrecked paddy fields and Africa's bankrupt coffee farms, while along the way he ate genetically engineered soy beans and dodged flying objects in the protester-packed streets of South Korea. What he found was shocking, from the false choices given us by supermarkets to a global epidemic of farmer suicides, and real reasons for famine in Asia and Africa.
"I think that actually having a democratic conversation about food is the one thing that most of us, and particularly people in developing countries, have never had. In this country we've had the poor cousin to democracy. What we experience as democracy is in fact consumer choice." —Raj Patel, Excerpt from the recording
 Track Listing:
Hunger and Obesity

The Curse of Soy

Who Profits?

Corporations and Capitalism

Markets and India

Farmer Suicides

The World Bank

Wal-Mart

Fast Food

Social Change

Getting Radical

Biofuels

The Price of Food

What Do You Eat?
Catalog Number: ROOT-CD-0011
UPC: 877746001123