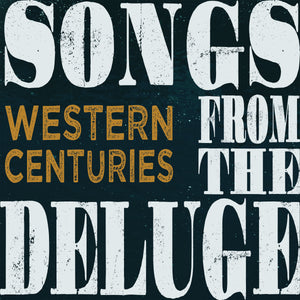 Western Centuries - Songs from the Deluge
"Western Centuries is the country supergroup we've been waiting for." — Exclaim!
A Rolling Stone Country "Artist You Need to Know" For March 2018
With Songs from the Deluge, honky-tonk supergroup Western Centuries brings country music home to its eclectic and unpretentious origins. Recorded and co-produced by acclaimed Cajun musician and Grammy-winning producer Joel Savoy at his Eunice, LA studio, this fresh set of songs spans psychedelia, boogie-woogie, and quixotic tales of love. The carefully honed sound is supported by the band's signature literary approach to lyricism. Throughout the album's 12 songs, Western Centuries' three songwriters (Ethan Lawton, Cahalen Morrison, Jim Miller) traverse vastly differing geographies—the city, the Southwest, the metaphysical—and weave together a tapestry of Western music without sacrificing their hard-earned country dancehall sound. Indeed, Songs from the Deluge harmonizes three distinct songwriting voices into a sound that pulls from the great expanse of American music: Delta blues, Appalachian string band music, Texas fiddle traditions, cowboy songs. This record will levitate heavy hearts, turn spilled beer into ballads, and reclaim the multifaceted roots of country.
Track Listing:
1. Far From Home (3:52)
2. Earthly Justice (4:04)
3. Wild Birds (4:25)
4. Wild You Run (4:33)
5. Rocks and Flame (3:44)
6. Own Private Honky Tonk (3:39)
7. Cloud of Woes (3:34)
8. Borrow Time (4:07)
9. How Many More Miles to Babylon (4:31)
10. Time Does the Rest (4:03)
11. Three Swallows (4:58)
12. Warm Guns (4:56)
Catalog Number: DIRT-CD-0086, DIRT-LP-0086
UPC: CD (877746008627), LP (877746008610)