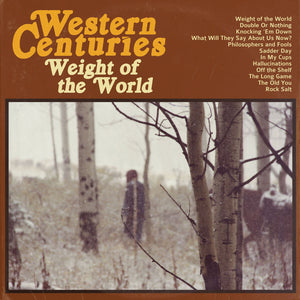 Western Centuries - Weight of the World
Round up a country band and an early R&B group with three lead vocalists, weave in a hefty amount of vocal harmony and witty turns-of-phrase, and let 'em rock out like The Band. The sound of roots music mavericks WESTERN CENTURIES sits at these crossroads, and their debut album Weight of the World produced by Bill Reynolds (Band of Horses) introduces a band as skillful in their musicianship as they are innovative in their writing. With upbeat, barroom dance numbers, lilting, introspective tunes of heartbreak, and everything in between, the album strikes an oft-strived-for but rarely achieved balance between genre-busting experimentation and thoughtful continuity. Comprised of Seattle-based country musician Cahalen Morrison, jam band veteran Jim Miller (co-founder of Donna the Buffalo), R&B and bluegrass-by-way-of-punk rock songwriter Ethan Lawton, pedal steel player Rusty Blake, and bassist Dan Lowinger, Western Centuries are clearly a diverse bunch. The band is collaborative in nature, but they are – albeit subtly – helmed by Morrison. After years of performing in prominent roots duo Cahalen Morrison & Eli West (whose music made fans of Tim O'Brien, Jim Lauderdale, Dirk Powell, and BBC Radio's Bob Harris along the way), Morrison formed and led the band Country Hammer, made up of members who have mostly crossed over into Western Centuries.
(Formerly Cahalen Morrison & Country Hammer, check out their other release here!)
"This record and band hits the spot. These guys do it right."  —Jim Lauderdale
"Western Centuries is the country supergroup we've been waiting for."  —Exclaim!
Watch the official video for "Double or Nothing"

Track Listing:
1. Weight of the World
2. Double or Nothing
3. Knocking 'em Down
4. What Will They Say About Us Now?
5. Philosophers and Fools
6. Sadder Day
7. In My Cups
8. Hallucinations
9. Off the Shelf
10. The Long Game
11. The Old You
12. Rock Salt
Catalog Number: DIRT-CD-0077
UPC: 877746007729 (CD), 877746007712 (Vinyl)